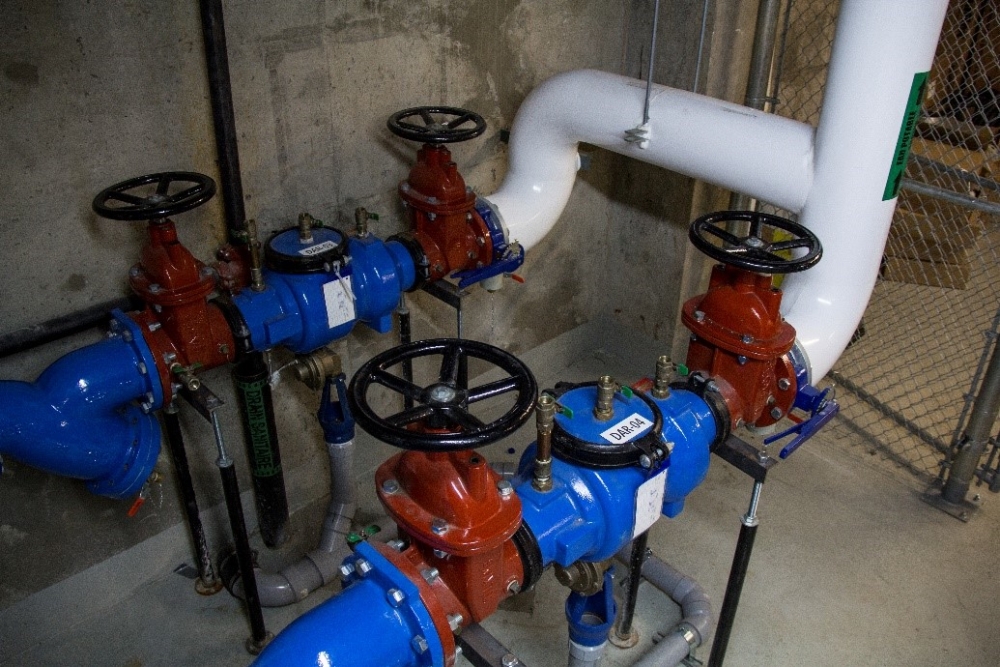 Seek advice from the start to avoid overvaluation or undervaluation a backflow prevention device
Selecting the right backflow prevention device is crucial to avoid contamination of drinking water. For this, it is necessary to master CSA B64.10-17 – Selection and Installation of Backflow Preventers. It is recommended to call upon experts at the beginning of the project to minimize the costs of purchase, installation, or annual maintenance.
Several applications are connected directly to the building's drinking water network. They do not present the same level of risk, and this must be considered when choosing a backflow prevention device. B64.10-17 refers to three levels of risk: low, medium, and high. A low risk reduces the aesthetic quality of the water. A medium risk, in addition to reducing the aesthetic quality, can be dangerous to health in certain cases. A high risk presents an insured health hazard. For example, a coffee machine directly connected to a drinking water supply represents a very low hazard compared to a detergent dispenser or a hot water heating system.
To select the appropriate backflow prevention device, the following is required:
Have an excellent knowledge of existing models and their specific functionalities,

Correctly identify the level of risk of the application to be protected,

Evaluate annual recurring maintenance costs.
Refer to the guide to the selection and installation of a backflow prevention device from B64.10-17.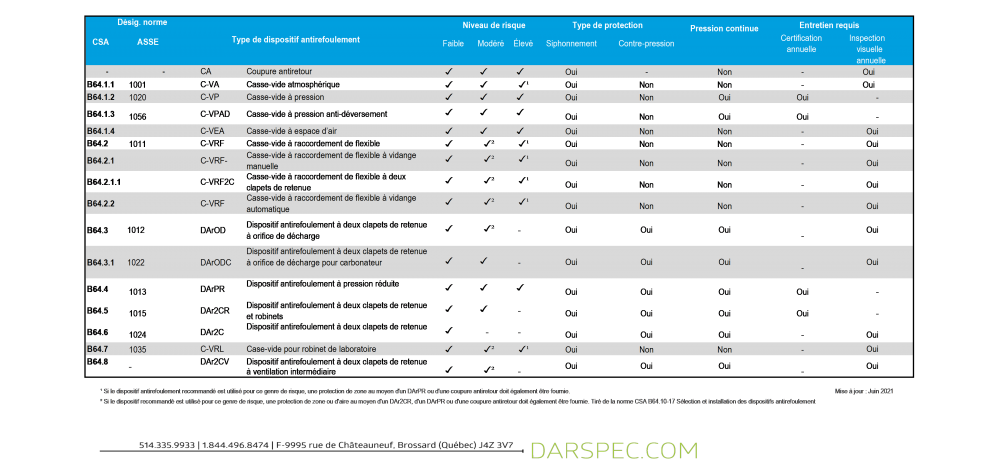 Consequences of overvaluation or undervaluation of a backflow prevention device
The selection of a backflow prevention device is overvalued for one or more of these reasons:
The application connected to drinking water represents, according to the standard, a low risk while the backflow prevention device that protects it is designed for a higher level of risk,

A verifiable backflow prevention device has been installed instead of a non-verifiable device,

More backflow prevention devices than necessary have been installed to protect the risk.
In the first example, it is common that a reduced pressure backflow prevention device (DArPR) is installed, as it is known to provide maximum protection. However, the installation standards of this device require the presence of a floor drain to evacuate water in the event of a flow, which is not applicable in all situations. Additional costs are then required to make the installation compliant. Before choosing this solution, make sure that no other device is better suitable.
To illustrate the second example, it is not uncommon for a coffee machine to be protected by a pressure vacuum breaker (CV-P), which requires annual certification by a certified backflow prevention device verifier. However, a two-valve backflow prevention device (DAr2C) would have done the trick, especially since it is not required to be certified annually.
As for the third example, an error to avoid is to isolate each application individually when zone protection would have been possible.  Zone protection should be avoided if an application requires clean water for human consumption. However, it can be advantageous and less expensive in several other situations.
In all three cases, the costs of purchase, installation or annual maintenance will be inflated, hence the importance of selecting the right device from the start.
Conversely, if the selection of the backflow prevention device has been undervalued, meaning it is designed to protect a lower type of risk than the one for which it is used, this may result in a potential danger of contamination of drinking water.