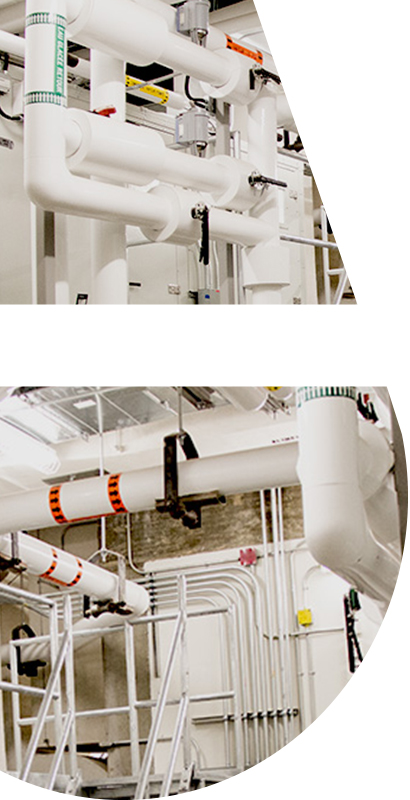 Knowledge and know-how in applied engineering to sustainable water management in your buildings
From the water inlet of your building to the numerous distribution points, Darspec helps you to plan and to manage the use of water in an optimal way, from a quantitative point of view (measurement and economy) and qualitative (to preserve its drinking character).
There are several uses of water in a building: water intended for human consumption, domestic hot water and process water. Process water can be used to supply devices connected to the plumbing system, such as heating and air conditioning systems, detergent dispensers, fire sprinkler systems or irrigation. These are common applications in multi-residential, institutional, commercial or industrial buildings.
Some industries, especially the food and petrochemical industries, consume large amounts of water due to their manufacturing processes.

Risk of water contamination
Some applications can present a risk of contamination of water intended for human consumption in a building, thus potentially affecting the health of its users. Standards and laws exist, for building owners, to keep drinking water safe and to prevent any form of contamination in case of backflow in the plumbing system.
What is backflow prevention?
Engineering mandates are required to identify the areas of improvement to optimize the use of water or to preserve its drinking and safety character. The mandates can be done in three steps.
Find them in video on our Youtube channel.
Building engineering analysis
During the visit to the building, data is collected for each of the facilities in order to assess the corrective measures required. An analysis report is then produced, containing recommendations to ensure the optimal functioning of the water network while taking into account the budget, recurring maintenance costs and priorities for action.
Design of plans and specifications
Following the engineering analysis, Darspec designs detailed 3D plans and technical specifications. The plans and specifications take into consideration the customers' needs, the constraints related to the complexity of a building and the impact of the proposed solutions on day-to-day operations. A 3D digitization (scan) of part(s) or the entire mechanical room can be used depending on the complexity of the installations.
Monitoring and management of compliance work
Our engineers supervise and guide contractors during the installation or repair work of your infrastructure. They ensure that the work carried out complies with the codes and standards in effect as well as the specifications specified in the plans and specifications.
Our team of experts, made up of specialized technicians and engineers, bring their knowledge and experience to the field. The projects are therefore carried out according to the rules of the art, respecting the schedule and the allocated budgets.
Cross-connections on the drinking water network
Preserving the potable and safe nature of the water in a building
Cross-connection engineering - or backflow prevention – is a discipline that prevents a source of pollution or contamination from backing up into a plumbing or drinking water distribution system.
The proper installation of backflow prevention devices (or backflow preventer devices) helps to preserve drinking water from any possible contamination. Darspec offers effective solutions that take into account your budget constraints and that comply with all applicable codes and laws. In Canada, the CSA standard: B64.10-17 / Selection and Installation of Backflow Prevention Devices applies.
Definition of a cross-connection or a backflow preventer device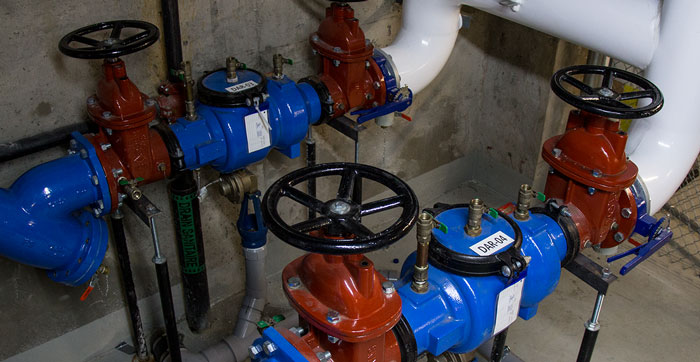 Cross-connection analysis for any type of building
Our engineers and experts work with your employees to target all of the cross-connections at risk in a building, regardless of the complexity of the installations. Following the visit of the buildings, a full analysis report is given to the client to enable informed decision-making. This first step will then lead to the design of plans and specifications and then proceed to the realization of the corrections and additions.
Cross-connection control program
Darspec will assist you design an efficient and affordable cross-connection control program.
Our programs ensure safe water for building users and at the same time protect the health of citizens by preventing potentially contaminated water from flowing back into the municipal water system.
Continuous Management
The vocation of buildings is constantly evolving, as are the codes and standards to be respected. Keeping your cross-connection control program up to date is the best way to preserve the compliance of the installations, as well as the health of the occupants.
Indeed, the installation of new appliances connected to drinking water system may present new risks of contamination. The installation of a backflow prevention device may then be mandatory to maintain adequate protection of your building's drinking water system.
We recommend that property owners, building managers and support staff begin each project with a training session where we describe the work to be done and its purpose.
Darspec also offers training specifically designed to maintain your knowledge or to acquire new skills in cross-connections, backflow prevention devices and backflow prevention in plumbing systems.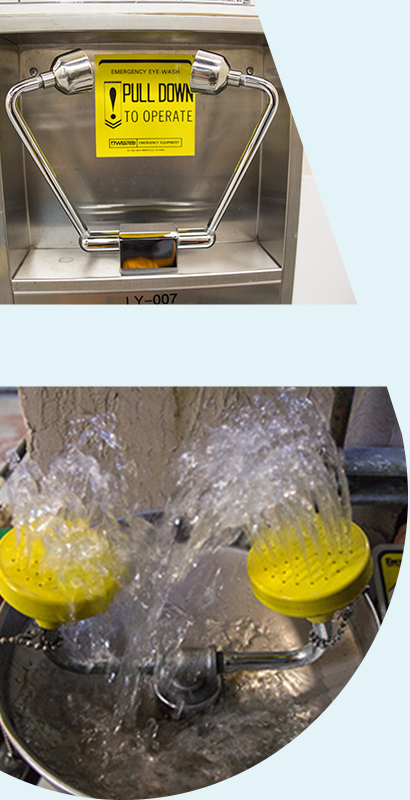 Do you work with products that are dangerous, corrosive and can quickly cause damage to the skin or eyes? Already have emergency showers installed and want to make sure they are compliant?
The first 10 to 15 seconds after exposure to a hazardous substance, in particular a corrosive substance, is critical. Delaying treatment, even for a few seconds, can cause serious and irreversible injury.
Emergency showers and eyewash stations provide on-site decontamination. They allow workers to flush hazardous substances that could cause injury with plenty of water while waiting for first responders.
Accidental exposure to chemicals can occur even if appropriate engineering and safety measures are in place. Emergency showers and eyewash stations are a complementary measure to minimize the effects of accidental exposure to chemicals.
The use of the equipment is described in the occupational health and safety regulations which refer to the detailed ANSI Z-358.1 standard for designing safe installations.
Darspec team of experts can:
Carry out a complete analysis of the building,
Meet with employees responsible for occupational health and safety (OHS) to understand the needs,
Perform the tests to confirm the proper functioning of the showers,
Provide a detailed analysis report including inspection sheets, summary tables of the installations and recommendations specific to each of the installations,
Implement the project that will respect safety standards.
Darspec has the necessary expertise to carry out projects, from drawing up plans and specifications to site supervision.
Upgrading the main water inlet to standards
The water meter is above all a tool for measuring consumption which is mainly installed on a drinking water inlet.
To comply with different strategies for saving drinking water, municipalities require the installation of a water meter on the main water inlet in addition to a backflow prevention device. The municipalities often have several requirements as to its installation, type as well as size.
Darspec then analyzes the specifics of the building as well as your needs and supports you, from the design of the plans to the installation of the water meter.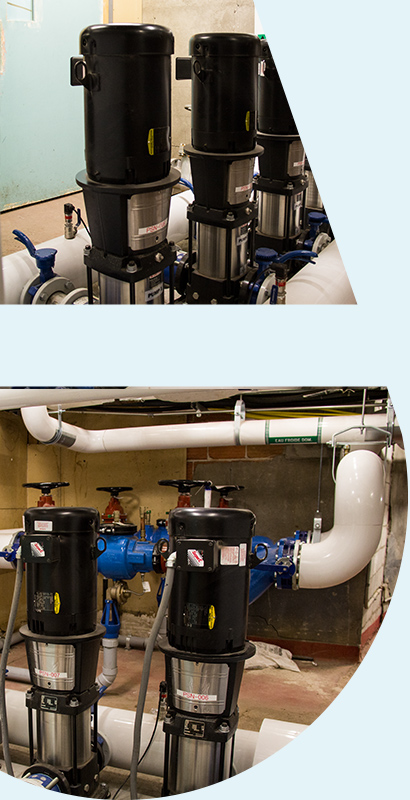 If the size or height of your building exceeds the city's capacity to provide you with sufficient pressure to meet your needs, you will need to install a booster pump.
Darspec can advise you on the optimal choice of booster pump (or pump assembly) as well as a design of the installation proposal.
Water consumption measurement solutions
Water is an indispensable resource, and it is important to use it intelligently in the building. To meet this requirement, meters are used to measure the consumption of demanding applications in a building. These meters can also be used to detect leaks, abuses and identify peak periods. Data analysis then makes it possible to take targeted actions to manage and to reduce water consumption.
For a manager, it then becomes critical to measure water consumption at different locations in the building such as water towers, back-up supplies to boilers or other applications such as irrigation systems. These measurements then make it possible to validate the proper functioning of the equipment or to observe waste or costly leaks.
Darspec can help you to locate these water meters wisely to make your buildings efficient, ecological, and respectful of the environment.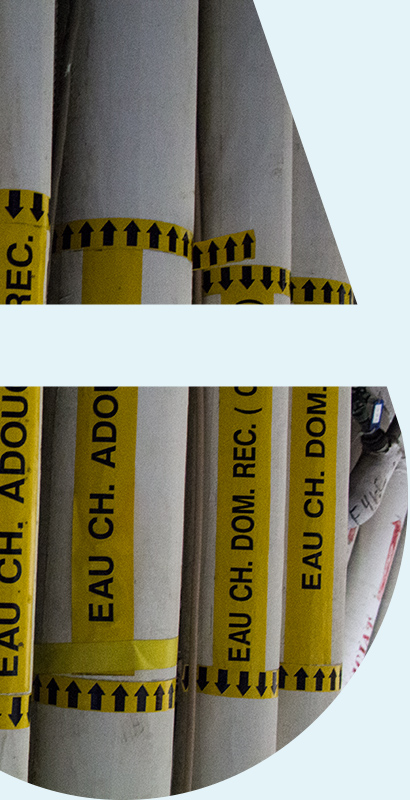 The principle of a recirculation loop is to constantly circulate water inside the pipes to avoid the phenomenon of stagnation. In fact, stagnant water can lead to the formation of bacteria, the build-up of scale and, when the pipes are made of lead, the dissolution of lead in the water, which is very harmful to health. Recirculation loops are used for different networks, among others, for:
water for processes,
drinking cold water,
mixed water,
domestic hot water.
Water for processes
The installation of a recirculating water loop for processes is used in various industries for cooling, cleaning or simply for connecting a garden hose. This type of loop has certain advantages, the main one being the use of a single backflow preventer device to allow isolation of a cross-connection area.
Drinking cold water
Drinking water is essential to human life and that is why we must take all possible measures to preserve it. It is very important to understand the difference between process water and drinking water and to properly identify the pipes to avoid any confusion and contamination of the drinking water system.
Several industries in the food industry, for example, consume a large amount of potable water. They can then use a recirculation loop to improve the quality of drinking water and thus save money.
Mixed water
A mixed water network is a system that maintains the temperature of the water so that it is always lukewarm (between 15 to 32 ° C). Such a loop is advantageous when feeding similar devices such as an emergency shower or eyewash system. The recirculation loop ensures that the water is always at a comfortable temperature for the user in an emergency.
Regardless of the use of the loop, it then becomes a concept used to provide comfort, efficiency, safety, or economy.
Domestic hot water
A domestic hot water circulation system is a system that provides quick access to hot water anytime, anywhere in the building.
In general, codes require the water heater to have a factory set temperature of a minimum of 60 ° C to eliminate the growth of bacteria such as legionella. This water is then circulated continuously in the distribution network to reduce heat losses and maintain a high temperature and avoid stagnation.
Here are some reasons that require the use of a thermostatic mixer to provide mixed water:
User safety - limit the temperature and keep it constant to avoid the risk of burns and thermal shock,
Comfort - fast temperature regulation,
Extend the life of materials and pipes - less scaling of taps,
Saving water and energy.
In general, codes require that the temperature of the water leaving the faucets should be at a maximum of 43 ° C to prevent the risk of scalding.
For various industrial installations, the use of a mixer is essential and even compulsory for domestic use. However, for eyewash stations, the water should be closer to body temperature to avoid thermal shock. It is important to note that this mixer must be approved for emergency applications.
To find the right mixer for your needs, it is important to consider not only its level of approval but also a few other parameters. In fact, you need to know the hot and cold-water pressures inside the network, as well as the diameter of the pipes, among other things.
Darspec team can analyze your specific needs and make recommendations tailored to the use of this water.